MADINABEITIA, Itsaso. 2020. COVID-19a eta itxialdia opari bihurtzeko aukera. Hik hasi, 248, p. 22-25. ISSN 1135-4690
Emotional intelligence is such an important subject for life and one that we often ignore. It enables personal development and it is what we lack, particularly in difficult times, such as now that we are locked up at home due to the coronavirus situation. Wouldn't it be interesting to take advantage of this so that our children and young people can learn to use skills that will get them ahead in life, help them be happy and adapt to life's changes? Some people will think this is utopian and difficult, Madinabeitia is not one of them. Leaving aside our fears and prejudices and if we are clear about what is important, we will be able to embark on this path as educators, fellow travellers or parents.
---
GIMÉNEZ ÁLVAREZ, Mercedes G. and TRUJILLO VEGA, María Auxiliadora. 2019. Foreign children, adolescents and youth who migrate alone.
The agency, mobility and borders. Arxiu d'etnografia de Catalunya: revista d'antropologia social, 20, p. 183-204. ISSN 0212-0372, ISSN-e 2014-3885
This article focuses, from a performative viewpoint, on the presence of foreign children, adolescents and young people under 18 years of age, legally considered as unaccompanied foreign minors, within and outside the Spanish protection systems and the interactions that their presence has generated over the last 20 years. The text aims to be a theoretical analysis from the viewpoint of an agency on the meaning of child and adolescent mobility in a transnational context. In the first part, we will describe the implications from an agency approach, placing special emphasis on the issue of autonomous migration and arguing for the importance of generating other narratives and replacing words taken from epistemological and methodological nationalism, such as the intensive use of the legal category of "unaccompanied foreign minors". In the second part, we will describe the performativity of the presence of these minors in our societies and territories over the past 20 years and the interactions and patterns that their subjectivities have reformulated and built. We will look at three aspects, on the one hand, how the presence of Moroccan minors is helping the various Child Protection Systems to begin to reflect on cultural diversity and its management. On the other hand, how a movement to defend the rights of foreign children has been articulated and its important legal achievements that have benefited children and adolescents as a whole. Finally, how new forms of social intervention, such as transnational social mediation, are being implemented to accompany the mobility of these children, adolescents and young people and to rethink the territoriality of protection systems, which has proven to be insufficient.
---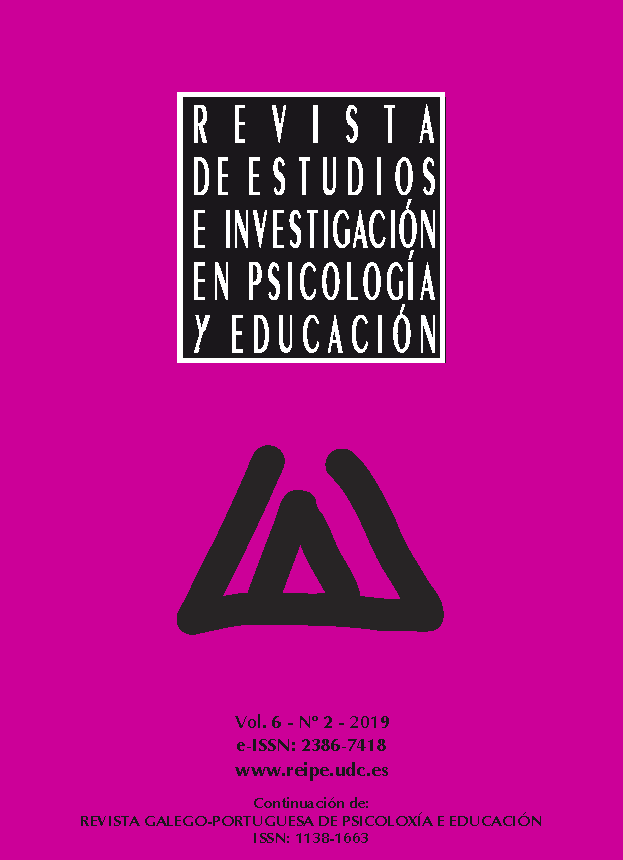 FELGUERAS CUSTODIO, Nerea, MORENO-RODRIGUEZ, Ricardo and LÓPEZ-BASTÍAS, José-Luis. 2020. Research on university education and socio-emotional skills aimed at students with intellectual disabilities
. Revista de estudios e investigación en psicología y educación, vol. 7, p. 48-58. ISSN-e 2386-7418
People with intellectual disabilities encounter serious obstacles when trying to access university education and when trying to get and keep a job. To respond to this need, the Rey Juan Carlos University has implemented a university education system aimed at young people between 18 and 30 years of age with a degree of disability equal to or greater than 33% and a diagnosis of intellectual disability. The purpose of this study is to respond to the social interaction and emotional regulation requirements of this profile of people by incorporating two specific education modules in social and communication skills and in emotional management. Active participation in these modules results in an improvement in these skills and, therefore, the development of personal autonomy and an increase in the possibilities of labour insertion. To test the impact of this training, the acquisition of skills was assessed through a rubric at two distinct time points, before and after training. Performance in social and emotional skills showed improved scores after passing these modules. In view of the favourable results obtained in the evaluation, it was found that the training proposed was effective. However, in order to encourage the learning of these skills to be maintained over time and extended to other contexts, this training must be enhanced by offering this group the necessary tools to promote their personal, emotional and social development and favouring their labour and social inclusion.
situations.
---
NOTE: All document centre collections can be used for reference or loaned